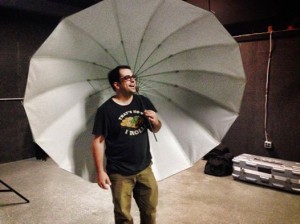 Jesse Colaizzi offers full-service video production and still photography. He specializes in TV program development, program production, and commercial production.  Public work samples are here. Please contact Jesse directly to view private work samples, or to inquire about your next project, by calling (412) 716-9968, on LinkedIn, or by following his cat's Instagram.
Jesse Colaizzi is an award-winning director of photography and a widely versatile editor based in Pittsburgh. His awards include two Telly Awards as Director of Photography for marketing campaigns with the American Chronic Pain Association and Pennsylvania Institute of Health and Technology. His DP and camera work includes numerous TV commercials, industrial films, documentaries, multiple TV development projects, and TV programs, for such clients as PPG Industries, JMC Steel Group, Thread International, Clearview Federal Credit Union, Giant Eagle, Alpha Volunteer Fire Company, US Abe, Orionvega Media, Push 7, Follow Productions, 11 Studios, and One Louder Productions.
Some of his notable DP/camera credits include 2-Point Lead: 1-800-BACKUP (AOL Sports), Racing The Rock: 6 Days at Targa Newfoundland (Amazon), My Crazy Obsession: Christmas Collection 2 (TLC), World's Weirdest (NatGeo Wild), NOVA: Cold Case JFK (PBS), Farm Kings (GAC), Life Changing Medicine (Discovery), Friday Night Fights: Feat. Dannie Williams (ESPN), and Doomsday Preppers (NatGeo).
Notable editing credits include multiple industrial films and TV commercials, for many of the above-mentioned clientele, as well as several episodes of Farmhouse Rules (Food Network), Pati's Mexican Table (PBS/Create), and Extra Virgin Americana (Cooking Channel). Jesse holds an MFA in film from Chatham University, an MA in journalism from Point Park University, and a BA in integrated arts from Penn State University.
Edit Platforms: AVID Media Composer & full Adobe suite. RED-friendly.
RED Scarlet-X Package:
-Scarlet-X brain
-Canon 16mm-35mm f/2.8L zoom lens
-Canon 24mm-70mm f/2.8L zoom lens
-Canon 70mm-200mm f/2.8L zoom lens
-4 128GB Redmags and Redmag station
-X-Pro v-mount batteries with Scarlett/Epic v-mount adapter & charger
-2 Redvolt batteries & charger
-Redrock matte box, with Schneider ND Filters (0.6, 1.2, & 1.8 at 4″x5.65″)
-5″ Red touch with side-arm mount and hood
-Shoulder mount and top handle
-Heavy-weight tripod and fluid head with 100mm ball
-Canon 7D body (5 batteries, 2 chargers, 3 32GB CF and 1 16GB CF cards, card reader, intervalometer, multiple tripods, shared lenses with red)
-17″ Macbook Pro i7, with Thunderbolt/eSATA hub, for field transfers
All items are safely contained in hard cases and are flight-ready.  Passport in good standing.